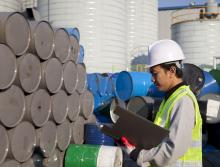 The first thing you need to do is take an inventory of the products that are used by your employees that may require any type of special handling to prevent adverse effects from occurring.
It's important to understand what an "adverse effect" might be. For example, gasoline if handled incorrectly can produce undesirable results like skin rashes, sever eye injuries, or even fire. If gasoline is handled by your employees an msds sheet for gasoline should be included in your book, so your employees will have the information for the safe handling of gasoline available to them.
Some products are considered "consumer products" and may not be required to be included in your inventory, or your binder, if it's used as the manufacturer recommends. Let's say you have a bottle of Liquid White Out rolling around in the bottom of your desk drawer, and you pull it out once in a while to make a correction; that's the manufacturers' intended use of a consumer product and an msds sheet wouldn't need to be included in your binder.
On the other hand, if you buy 50 gallon drums of Liquid White Out, and repackage it, and sell it in small containers under the name "block out", then you would have to include an msds sheet for White Out in your binder. It's no longer considered a consumer product, and an adverse effect may occur while your employee is handling such large quantities of the product.
Take a physical inventory, and make a list, of the products found in your workplace. Also take a look at purchase orders or invoices to find products that have been, and are being used, by your employees.